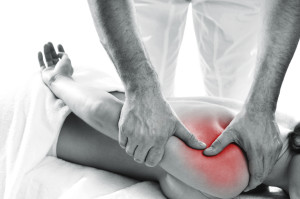 Using physiotherapy to help heal and prevent those injuries that stop you from leading an active life. Dr Motsisi aims to treat both your pain and its cause, helping to not just improve your life in the short term, but to prevent long term problems. We offer a wide range of treatments, to cover a wide range of pains and injuries. Get in touch with Dr Motsisi to see what she can do for you, as seven out of 10 of our patients get better with us in five treatments or less, we can also promise to never under or over treat you.
Manual therapy
The foundation of physical therapy, which involves using hands-on techniques to diagnose and treat joint, muscle and/or nerve injuries. As part of your customized treatment plan, manual therapy can include soft tissue mobilization and joint manipulation, depending on your injuries. For more information regarding manual therapy please visit Dr Motsisi
Whether you injure yourself at home, work or during play, our highly skilled therapists are trained to design an individualized exercise program to protect against injury or help you reach your goals. Cover all your bases with a program that includes core strengthening, gravity training, resistance bands and other tools.
Acupuncture
Boost the healing process with therapeutic acupuncture services – a safe and natural alternative treatment performed by our certified professionals. This ancient form of Chinese medicine involves inserting thin, sterile needles into specific points in the body to decrease pain, reduce inflammation, improve mobility and rebalance energy.
Modalities
We offer a variety of modalities to complement your treatment such as therapeutic ultrasound to reduce inflammation, transcutaneous electrical nerve stimulation (TENS) to reduce pain and taping to help correct movement dysfunction.
Vestibular rehabilitation
Combat vestibular disorders with manual therapy or exercise-based techniques to reduce dizziness, imbalance and vertigo stemming from issues such as benign paroxysmal positional vertigo (BPPV), concussions from sports injuries and car accidents, migraines and neuritis, to name a few.
Pre- and post-operative therapy
Not sure how to prepare for surgery, or what to do afterwards? Partner with our team of healthcare professionals to take the guesswork out of the process and optimize your recovery.
Research has shown that being in good physical condition before surgery makes for the best post-surgical outcomes. In addition to creating your own personalized rehabilitation program, our team can answer general questions you may have regarding your surgery, educate you on the anatomy of the region, and give you an idea of what to expect after surgery. Our therapists will design an integrated treatment plan and partner with you along the road to recovery so you can get back to living a full and healthy life.
Balanced training for healthy aging
Optimize the aging process with a fun and safe exercise program tailored to your needs and abilities. Whether you suffer from a loss in balance or muscle strength due to the normal aging process or a neurological condition such as Parkinson's disease, a stroke or multiple sclerosis, we can give you the one-on-one care you need to take back the quality of your life. From improved balance, muscle strength and bone density to a decreased risk of falls and fractures, our therapists will work side-by-side with you to help you achieve your goals.
Massage therapy
Massage therapy is a hands-on technique that is effectively used to assess and treat soft-tissue, muscular and joint pain. When used in combination with other physiotherapy techniques, massage therapy can significantly alleviate pain and speed-up recovery. It's also useful for relaxation, stress-relief and injury prevention when done on a regular basis.
Need More Advice on Our Treatments?
Call us on 011 640 3593, we will give you advise you on treatments such as Physiotherapy, Chinese Medicine, Acupuncture, and Spiritual Healing