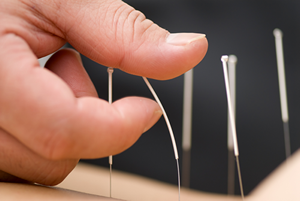 Acupuncture is a hands-on technique that identifies each person's energy flow in their channels. By using prescriptive points to reconnect all the different points of the body's meridians, acupuncture wakes up the body's own healing abilities and strengthens the body's innate power of reaching homeostasis. We use various techniques and approaches to maximize the effects of acupuncture. For example, while most people respond well to body acupuncture, some will respond exponentially better to auricular or hand acupuncture. In addition to the health benefits, acupuncture can also be used for beautification treatment. By reducing and even reversing the signs of aging, it is quickly becoming a popular modality for facial rejuvenation.
Acupuncture Needles
Acupuncture needles are completely different from needles used in conventional practice (i.e. injection needles). Many people may fear acupuncture because they are afraid of the needles or imagine acupuncture to be painful. Actually, the thinness of acupuncture needles can be compared to a strand of hair, and they are extremely smooth. This makes for relatively pain-free insertion. You may sense a slight sensation at the moment of insertion (more so if you are a child, tired, or weak). The majority of people will experience a sense of great relaxation and well-being during the process. At Healing Power of Nature, we only use disposable needles for each treatment, so there is no risk of transmitting communicable diseases.
Need More Advice on Our Treatments?
Call us on 011 640 3593, we will give you advise you on treatments such as Physiotherapy, Chinese Medicine, Acupuncture, and Spiritual Healing
Book an Appointment
[contact-form-7 404 "Not Found"]